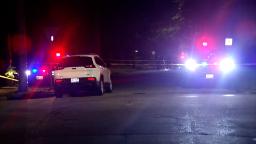 CNN
—

Two people are dead and 15 injured after a fight broke out at a large street party that led to a shooting in Saginaw, Michigan, police said.
The party was promoted on social media, authorities said, and police dispersed the crowd "several times at various locations" before the incident, Michigan State Police said in a news release.
"Police were nearby and preparing to disperse the crowd at this new location when multiple 911 callers reported people shooting into the crowd at approximately 12:00 a.m. on June 24," the statement said.
Authorities said "an altercation broke out between revelers, leading to shots being fired. In response, others in the crowd began shooting into the crowd, hitting several victims. As people fled the scene, many were injured after being hit by fleeing vehicles."
According to the statement, at least five weapons of different calibers were used and no suspect is in custody.
"Fifteen people were injured by gunfire or hit by a vehicle. Two victims, a 19-year-old man and a 51-year-old woman, died," the statement said.
"There is no ongoing threat to the public," the statement added. "This remains an active and ongoing investigation."