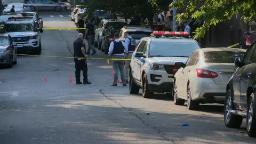 CNN
—

A 3-year-old boy and his 6-year-old brother were among four people shot and wounded when shots were fired into a crowd outside a Bronx park Tuesday night, the New York Police Department said.
Hundreds of people gathered at St. James Park when two men dressed in black and masks were picked up on an "illegal scooter" around 6 p.m., and one of them got off and fired into the crowd, hitting the four victims, NYPD Chief of Patrol John Chell said at a news conference Tuesday night.
Both children were shot in the legs, Chell said. A 23-year-old man was shot multiple times and a 25-year-old man, believed to be his cousin, was shot once in the back, he added.
All four victims are "doing well" and are expected to recover from their injuries, the patrol chief said. he said Tuesday night.
After the shooting, the suspects fled on the scooter, and authorities were working to identify them Tuesday night. Police said the incident was captured on video.
It remains unclear what motivated the attack or whether the suspects knew any of the victims. "We don't know who they shot — there were hundreds of people in the park," Chell said said.
He called the shooting "totally unacceptable."
"As a father and parent in the city, I could not imagine this happening to my children. Absolutely heartbreaking and disturbing," Chell said.
The shooting comes days after a gunman on a scooter was executed a string of shootings in New York that left one person dead and three others injured, according to the Queens district attorney's office. A suspect was arrested and accused of murder if.
"We have a recurring theme in the city — illegal bikes, illegal firearms and people firing those firearms," ​​Chell said Tuesday.
"Our detectives here in the Bronx will do everything they can and solve this case," he added.