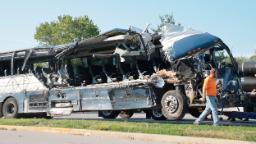 CNN
—

At least three people died and 14 were injured in an accident involving a Greyhound bus and three other vehicles Wednesday morning in southern Illinois, a state police statement said.
"The initial investigation indicates a Greyhound passenger bus was traveling westbound on Interstate 70 and struck three commercial vehicles parked on the exit ramp to the westbound Silver Lake Interstate 70 rest area," the statement said.
No one in the other vehicles was injured, the statement said.
The crash happened just before 2 a.m. in Madison County.
"Three deaths were confirmed and several others were taken to hospital with serious injuries, four by helicopter and at least 10 by ambulance," the statement said.
The bus was traveling from Indianapolis to St. Louis, officials told the CNN affiliate KMOV.