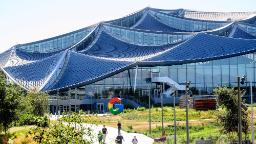 CNN
—

Shares of Google parent Alphabet fell more than 3 percent in early trading on Monday after a report raised concerns that its core search engine could lose market share to AI rivals including Microsoft's Bing .
Last month, Google employees learned that Samsung was considering making Bing the default search engine on its devices instead of Google, causing "panic" within the company, according to a report from the New York Times, citing internal memos and documents. (CNN did not review the material.)
In an effort to address increased competition, Google is said to be developing a new artificial intelligence-based search engine called Project "Magi," according to the Times. The company, which has about 160 people working on the project, aims to change the way results appear in Google Search and will include an AI chat tool available to answer questions. The project is expected to be publicly unveiled next month, according to the report.
In a statement sent to CNN, Google spokeswoman Lara Levin said the company has been using AI for years to "improve the quality of our results" and "provide completely new ways to search," including with a released last year which allows users to search by combining images and words.
"We have done so in a responsible and helpful manner that maintains the high bar we have set for providing quality information," Levin said. "Not every type of brainstorming or product idea leads to a launch, but as we've said before, we're excited to bring new AI-powered features to Search and will share more details soon."
Samsung did not immediately respond to a request for comment.
Google search engine has dominated the market for two decades. But the viral success of ChatGPT, which can generate compelling written responses to user requests, appeared to put Google on the defensive for the first time in years.
In March, Google began open access to Bard, its new AI chatbot tool that competes directly with ChatGPT and promises to help users draft and write essays, plan a friend's baby shower, and get ideas lunch based on what's in the fridge.
At an event in February, a Google executive also said the company will bring the "magic of generative AI" directly to its core search product and use artificial intelligence to pave the way for "the next frontier of our information products."
Microsoft, meanwhile, has invested in and partnered with OpenAI, the company behind ChatGPT, to implement similar technology in Bing and other productivity tools. Other tech companies, including Meta, Baidu and IBM, as well as a host of startups, are racing to develop and implement AI-based tools.
But tech companies face known risks in adopting this technology make mistakes and "hallucinated" responses. This is especially true when it comes to search engines, a product that many use to find accurate and reliable information.
Google was called out after a demonstration by Bard gave an inaccurate answer to a question about a telescope. Shares in Google's parent company, Alphabet, fell 7.7 percent on the day, wiping $100 billion off its market value.
The Microsoft Bing AI demo was also requested more errorsincluding an apparent failure to differentiate between types of vacuum cleaners and even fabricated information about certain products.
In the an interview with 60 Minutes that aired Sunday, Google and Alphabet CEO Sundar Pichai emphasized the need for companies to "be accountable every step of the way" as they build and release AI tools.
For Google, he said, that means allowing time for "user feedback" and making sure the company "can develop more robust layers of security before we build, before we deploy more capable models."
He also expressed his belief that these AI tools will eventually have a broad impact on business, professions and society.
"This is going to impact every product in every company, and so I think it's a very, very deep technology," he said. "And so, we're only in the early days."